How to get there
NB: Kosi Bay/Farazela Border opens at 08h00 and closes at 17h00 daily

Fuel & Diesel
Fuel and diesel are available at Ponta do Ouro. However unleaded fuel is only available at Kwangwanase (formerly known as Manguzi) in South Africa.

Grocery Shopping
There is a superette in Ponta do Ouro offering a small stock of essentials. There is a very well stocked Spar (groceries and hardware) in KwaNgwanase in South Africa at which any last minute shopping can be done before crossing into Mozambique. If you are driving on a Sunday, please note that the Spar closes at 14h00.
SA/Mozambique border
The road from the Farazela border post to the Tartaruga Maritima Luxury Tented Camp is a sandy 4x4 route. If you do not have a 4x4, guests can park their vehicles at the secure parking area about 100m before the Kosi Bay/Farazela border post on the South African side and get a Border Transfer to Tartaruga Maritima. There are several Transfer operators in the area and this will have to be arranged before your arrival. Our recommended operator is Sandra who can be contacted on 00258 847 319 049.
Road to Ponta Malongane
The route from the border post to Ponta Malongane is a series of sandy tracks with little signage. If you see the odd sign for either Tartaruga, Ponta Mamoli or Boa Vida, you are on the right track.
The road splits in three directions immediately as one leaves the border customs area (the left to Maputo, to the right to Ponta do Ouro). Choose the middle route which passes a high walled building enclosure.
If the road has multiple forks, don't get too anxious as they are just tracks which have developed when other tracks have deteriorated but they will eventually all meet up about 300m ahead.
After about 4kms you will pass an air strip. You may not be able to see it but you may notice the windsock blowing in the distance.
About 1km further on you will meet the main crossroads with the Maputo–Ponta do Ouro tracks as well as the electric power lines heading to Ponta. Another 1km further is another crossroad with the Maputo–Ponta tracks. Just keep straight ahead.
About 2kms further you will pass a substation on your right with the power lines heading towards Malongane.
After about 4kms you will pass a small primary school on your left and soon afterwards you will drive through some bush and start getting your first view of the lake behind Ponta Malongane.
Drive around the edge of the lake for about 1km, pass the Come to See restaurant until you reach a crossroad and a small traffic circle. Drive around the circle and head towards the coast. The green gates of Kangela Estate and Tartaruga Maritima will be directly ahead of you. Proceed through the gate and follow the signs to reception.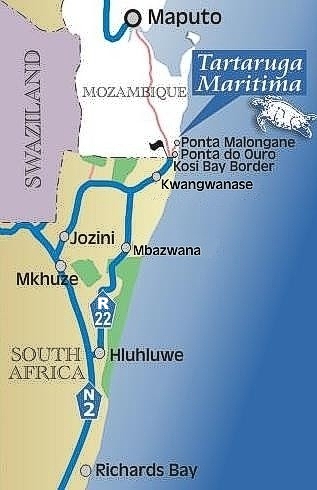 Travelling to Tartaruga from KwaZulu-Natal, head north from Durban on the N2 and exit at Hluhluwe. Continue on the R22 through Mbazwana and KwaNgwanase till reaching the Kosi Bay Border post.
Tartaruga is about 440 kms from Durban.
Click here for printable map and directions

If you are a first time visitor to Tartaruga Maritima, it is advisable to print out the map and directions and travel with them.
Printable Map and Directions >>